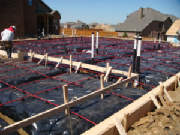 Foundation
This inspection is performed after trenches or footers have been dug and all metal and pipe casings and/or liners have been put into place, but before pouring concrete.
• All known plan measurements of depth and width of footings are verified.
• All metal- rebars, beams, tension cables, etc.- are inspected for proper placement and
connections.
• All known pipe and sleeve measurements are verified for proper placement.
Pre-Drywall

This inspection is performed prior to drywall or other interior wall covering is installed.
• Inspect for defective, warped, missing and misplaced framing members
• Inspect for proper wood grades, placement, span measurement, notching,
borings, and truss usage.
• Inspect anchor bolts, fire blocking and truss ties
• Inspect framing fasteners and connectors for proper schedules
• Visually inspect the electrical wires and plumbing installed through the
framing system including proper nail stop protection
• Visually check the HVAC rough-ins and duct conditions
• Visually check Air Handler condensation drain and overflow drain lines
• Check exterior walls, sheeting seal, wall penetrations, windows and sealants
• Visually check exterior electrical and lighting fixtures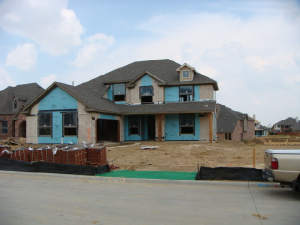 Final Home Inspection

This inspection is conducted when all construction is complete. This is basically the same inspection we do on all houses new or used. On new houses, it must be coordinated with the builder's schedule to be sure all systems are complete and ready for occupation. It should be completed before closing with enough time remaining to accomplish any necessary repairs.
It is the final inspection to verify that all Structural, Mechanical, Electrical, and Plumbing systems are installed and operating as intended including, but not limited to:
• Full home inspection meeting or exceeding all requirements of the Standard of Practice
as delineated by the Texas Real Estate Commission (TREC)
• Inspect the Structure including: Foundation, Grading and Drainage, Roof Covering,
Roof Structure and Attic, Walls (interior and exterior), Ceilings and Floors, Doors,
Windows, Fireplace/Chimney, Porches, Decks, Driveways, Carports
• Inspect Electrical Systems including: Service Entrance & Panels, Branch Circuits,
Outlets, Switches, Fixtures, Disconnects, GFCI's
• Inspect Heating, Venting and Air Conditioning Systems, Ducts
• Inspect Water Supply System, Fixtures, Drains, Wastes Vents,
and Water Heating Equipment.
• Inspect built in Appliances, and other Optional Systems

The "final" inspection is the type of inspections that is done when we are asked to do an "inspection". We can only tell you what we can see, touch, or test. We cannot see through concrete or walls. When you buy a completed house, whether "New" or "Used", this is the only type inspection that can be accomplished without destruction of the media (drywall, concrete, etc.) that obstructs our vision.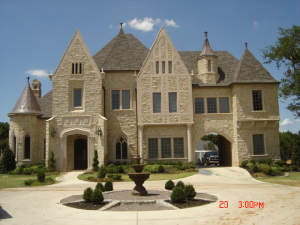 This website is still in the making and much more information will be added as time on. Please call us with any questions regarding your home inspection needs. It is not uncommon for many folks in the past to call us abpout questions in general about home inspections.

You are more than likely on this site because you are in need for a home inspection,
Give us a call for all your Home Inspection, Termite & Pest Control Needs
817-907-3035
We are situated on the Keller/Fort Worth border. A large portion of our Inspections are in and around Keller.
For your convenience we are more available to perform inspections daily in Keller.
Our years of experience and schooling and continuing education and the multiple thousands of Inspections performed in this area benefit you greatly. That is where your peace of mind comes in.
Keller what rated and still is as a boomburb. Money magazine rated Keller number 7 out of 10 best places to live. Median Family income is in the $120,000.00 range. Keller's 56 square miles leaves plenty of room for future growth.
Just going to the cities website
www.cityofkeller.com
will lead you to a plethora of information about the city.
Parks, a water park, city municipal building, fire and police department all updated and mostly new as the city has been growing. Shopping, restaurants? There is more than one could need. The major cities surrounding Keller such as Fort Worth and Dallas and neighbors such as Southlake, Grapevine, Colleyville will leave you wanting for nothing. Lakes? I think there are a hundred or more in the Metroplex. Zoos, city parks, Arboretums are all right next door.
I am here at you convenience. If you are from out of town or out of state rest at ease. I have lived in three states and several cities in each state. I know what it is like to move to a new area and trying to settle in.
Put your trust in a Keller Home Inspector performing you Inspection that has a proven record of knowledge and experience. Inspecting is my passion in life. Partner with me for a professional and enjoyable Inspection experience.